About Us
---
The Mapsa Industries Pvt. Ltd. was established in 1997. Over the years we have established ourselves as the leading player in the industry.
Our Team
Our Biggest strength is our team - "Team MIPL" comprises of various dynamic professionals coming from different background. The team has been the driving force and motivation for us to grow and move ahead in this field in a short time period. They all are working in close coordination to provide the best service to our esteemed customers
Our Motto
Customer satisfaction is our motto. We continuously work towards providing our customers a range of packaging material including Adhesive Tapes, LD Polybags and other products. To achieve complete customer satisfaction, our company works closely with our customers to offer products as per their requirements. We also ensure timely and safe product delivery.
Infrastructure
Our strong infrastructure is the backbone for our service. We have the expertise in meeting the demands of our valued customers in stipulated time frame. It also comprises of a well equipped manufacturing facility, designing unit, quality testing laboratories, warehouse and other divisions. Our production unit is installed with the latest machines to meet the specific needs of our customers and manufacture products in compliance with the international quality standards. We exercise different processes to develop our products.
These processes are as follows
Acrylic Adhesive Coating
Printing
Hot-melt Adhesive Coating
Spooling for Long Lengths of Narrow Width Products
Specialized BOPP film Manufacturing
Industry Segments
Our wide range of self-adhesive tapes is mostly used for packaging a host of products apart from other applications. Some of the industries our products have found application in are
Paper Industry
Textile Industry
Glass Industry
Food and Beverages
Electrical
Shoe and Leather
Air Conditioning
Refrigeration
Autombiles
Thermal Insulation Chemical
Our Customers
We are registered suppliers to corporate like Reliance, JK Tyres, USHA, GSK, Khaitan Fans, ICMC, Hi Tech Gears
Quality
we have been following the stringent quality norms and have acquired ISO 9001:2015 in our pursuit to provide the quality services.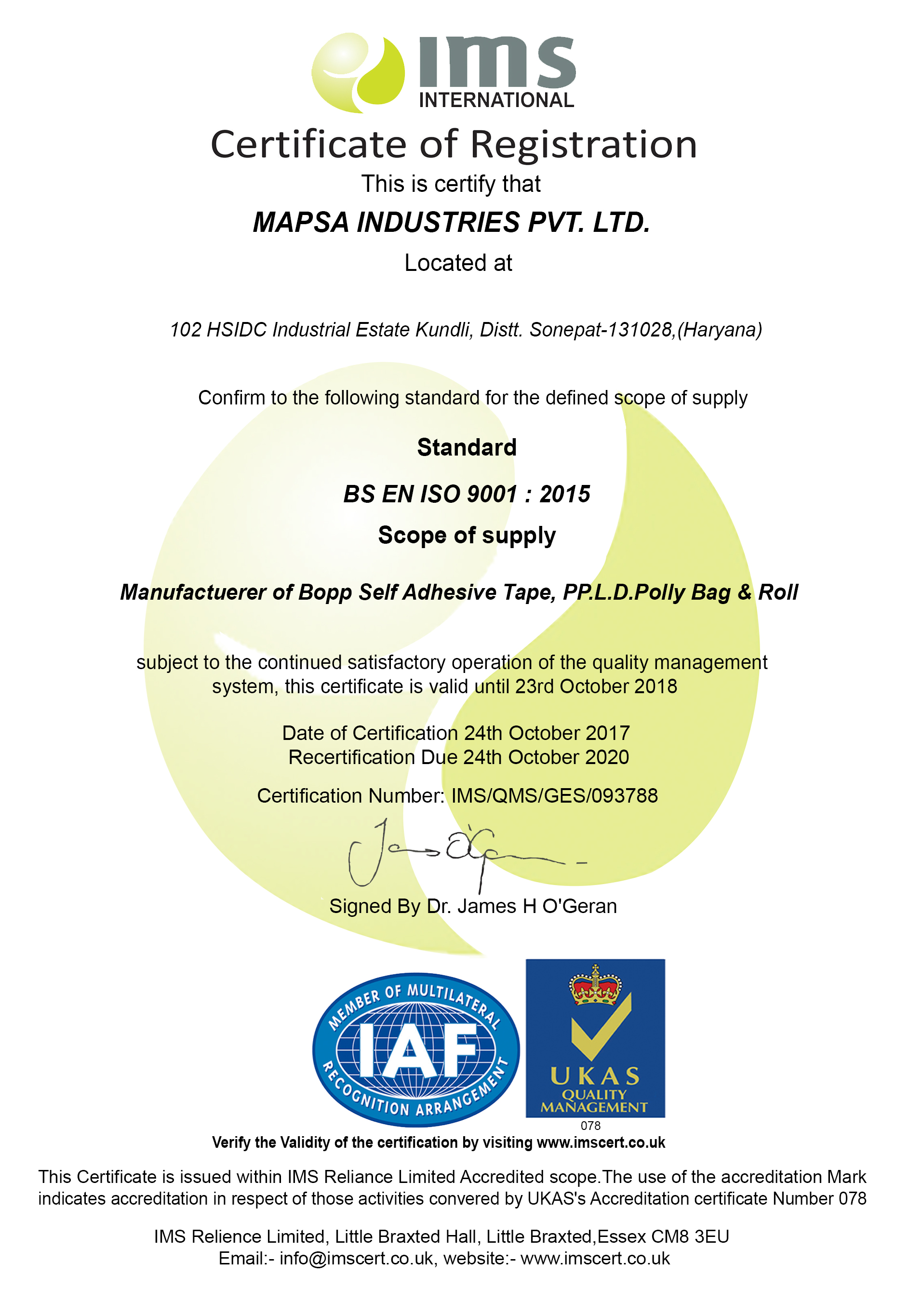 ISO 9001:2015